Tenji Aquarium Design + Build was started in 2001 by three former Monterey Bay Aquarium employees. Since then, we've worked on projects based in eight different countries and 30 different states, and can't wait to keep adding to that list. From jaguars to flamingos to lobsters and everything in between, we have built more tanks and life support systems than we can count. Enjoy learning about some of the milestones of our journey in the timeline below. 
Before 1990: The Life Aquatic
An interest in all things aquatic was developed at an early age for the Tenji principals. Ed was particularly drawn to snorkeling, while Mark felt happiest while on a boat.
1998: Aquarium Coworkers
Mark Faulkner, Ed Seidel, and Andy Case meet as coworkers at the Monterey Bay Aquarium.
2001: Our First Project
Our first project! Tenji is started after being asked to consult on a sustainable shrimp farm. The waste water from the shrimps, which was high in ammonia, was being used to grow tomatoes.


2002: Our First Tank
The first tank we ever built was a freshwater Amazonian for a client in our backyard: Big Sur, California.
2002: Giant Residential Tank
2002 also saw the very first private residence installation we completed. The tank was a massive one, a truly public aquarium-sized project in someone's home.
2003: International Adventures
We head across the pond on our first international project. Tenji was asked to consult on the BIOTA Aquarium in London, and we got some sightseeing in during the trip.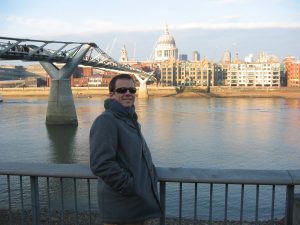 2005: LL Bean Flagship Store
Our first commercial project was at LL Bean's flagship store in Freeport, Maine. We built a 3,500 gallon tank that has an artificial current that reflects the local riverbed ecosystem.
2005: First Time Authors
In 2005, we added another title to our ranks: that of authors! We contributed to the Under the Sea poster book, all about public aquariums.
2006: So Many Cabela's
We began our partnership with Cabela's to build out tanks in their stores across North America. By the end of our time working together, Tenji had built fourteen tanks for different Cabela's stores.
2007: California Academy of Sciences
Our first large public aquarium project was at the California Academy of Sciences.
2008: Restaurant Aquarium
In 2008, we designed and built our first (but not our last!) aquarium in a restaurant. You can visit Waterbar in San Francisco to see of our more unique installations.
2011: A Tank for … Mermaids?!
Dive Bar might have been the second time Tenji was asked to create a tank for a restaurant, but it was our first time designing a tank for humans!