Tenji Aquarium Design + Build was started in 2001 by three former Monterey Bay Aquarium employees. Since then, we've worked on projects based in eight different countries and 30 different states, and can't wait to keep adding to that list. From jaguars to flamingos to lobsters and everything in between, we have built more tanks and life support systems than we can count. Enjoy learning about some of the milestones of our journey in the timeline below. 
Before 1990: The Life Aquatic
An interest in all things aquatic was developed at an early age for the Tenji principals. Ed was particularly drawn to snorkeling, while Mark felt happiest while on a boat.
1998: Aquarium Coworkers
On our journey through Tenji's history, our next stop is the late 1990's. Ed Seidel, Mark Faulkner, and Andy Case all meet as coworkers at the Monterey Bay Aquarium. Little did they know that their future involved starting a business together!
2001: Our First Project
Our first project! Tenji is started after the trio was asked to consult on a sustainable shrimp farm close by in Watsonville, CA. The waste water from the shrimps, which was very high in ammonia, could be recycled and used to better fertilize tomatoes. And so Tenji Aquarium Design + Build was born, with the help of some blue shrimp and some fresh tomatoes!


2002: Our First Tank
Tenji's very first aquarium was a residential project in our own backyard. We built this 200-gallon freshwater Amazonian tank for a client in Big Sur, California, and it's still going strong today.
2002: Giant Residential Tank
Tenji was off to a fast start, with another large tank installed in Big Sur in only our second year. The tank was a public aquarium-sized project in someone's home, requiring a massive crane for the installation. This was Tenji's first built-in residential aquarium. Unique features of this tank included the bespoke back lighting against a custom art mural by Ray Troll, and specialized wood cabinet panels.
2003: International Adventures
We headed across the pond to consult on the Biota! Aquarium project in London. The £1 billion project was part of a plan to help rejuvenate East London and would have been the largest aquarium in Europe at the time. Unfortunately, the project never came to fruition, and the aquarium was never built. However, our collaborations with international partners was off to a great start.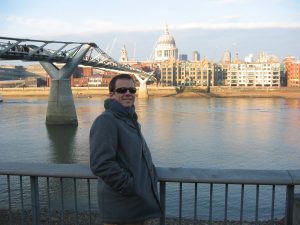 2005: LL Bean Flagship Store
Tenji was very excited to work with the team at L.L.Bean on our first commercial project. We designed and built an aquarium for their flagship store in Freeport, Maine. The freshwater tank shows off the ecology of the local rivers, stocked full with trout and salmon. The 3,500 gallon tank had the largest aquarium display viewing window in Maine at the time of its installation. To recreate the current of the river in the tank, a pump injects 200 gallons of water into the tank every minute.
2005: First Time Authors
Tenji wrote a children's book! At the end of 2005, the book "Under the Sea" was published by Storey Publishing. It includes 30 beautiful posters of different animals found in the ocean, with Tenji providing the fun facts and biological information for each. "Under the Sea" is still available for purchase today from your favorite local independent bookstore.
2006: Cabela's Partnership Begins
2006 brought the beginning of our multi-year partnership building the aquariums found in Cabela's stores across the US and Canada. We completed over a dozen in total, installing all of the life support systems and holding tanks, and overseeing the rock work build at each store. Over the years, we cut our installation time onsite in half, creating beautiful turnkey solutions that were still unique to each store.
2007: California Academy of Sciences
One of our very first large scale public aquarium projects was at the Steinhart Aquarium. Over the course of seven years, we worked with the CAS team to create 160 exhibits and life support systems for a wide range of habitats, ranging from coral exhibits and jellyfish culture systems, to living environments for spiders, lizards, and bats. The new building and its exhibits were built to Platinum LEED standards, reflects the Steinhart's mission-based commitment to ecological concerns.
2008: Restaurant Aquarium
Located right at the base of the Bay Bridge is Waterbar, our first (but not last!) restaurant where Tenji has installed an aquarium. The two cylinder tanks here create quite the vertical visual effect in the restaurant. All of the piping runs out of the bottom of the tanks and underground to a separate LSS room. The interior of the tanks can only be accessed via a hatch in the roof.
2011: A Tank for … Mermaids?!
Dive Bar might have been the second time Tenji was asked to create a tank for a restaurant, but it was our first time designing a tank for mermaids!
2012: Our First Commercial Lab
Our first commercial laboratory project was at Nova Southeastern University. We designed and built out a coral nursery, including tanks, stands, a seawater system, and controls. The lab grows coral both for research, as well as transplanting them back into the ocean.
2014: Tenji's First Showroom
In 2014, Tenji opened up its first showroom in Pacific Grove, California. We were located in the American Tin Cannery building, right next to historic Cannery Row. A space that used to be where fish were canned was now a space for fish to be built a new home!
2017: Turtle Back Zoo
Throughout our partnership with the Turtle Back Zoo in Essex County, New Jersey, we have designed and built exhibits for penguins, otters, and flamingos. The penguin exhibit included a 30,000-gallon saltwater pool, an enormous fabricated rock wall, multiple viewing levels, and extensive plumbing, chick monitoring, and LSS. The flamingos were also a challenge, having tough water filtration requirements.
2018: Tenji's New Showroom
In seemingly no time at all, Tenji was poised to grow again. We moved into our current showroom in Carmel in early 2018. With an expanded footprint, we were able to build two saltwater aquariums (120 gallons & 600 gallons) and one freshwater tank to show off our designers' and aquarists' beautiful work.
2020: Bailey-Matthews National Shell Museum
One of our biggest design/build projects to date, the Tenji team spent over three years designing, planning, and building with the team at the National Shell Museum. The renovated entryway eliminates the old front steps, making the whole building more welcoming, more appealing, and much more accessible. The new signage and graphics were all designed by our in-house team of incredible artists. The Shell Museum is now home to a resident Giant Pacific Octopus, as well as a wide variety of animals to visit at their touch tank.
2022: The Next Twenty Years
From jaguars to flamingos to lobsters and everything in between, we have built more tanks and life support systems than we can count. After twenty years in business, Tenji has worked in eight different countries and 30 different states. We'll be adding more locations to our client list this year and beyond!