Ocean Exhibits
Sea Turtle Exhibit with Artificial Corals, Moon Jelly Exhibit, and Culture and Quarantine Facilities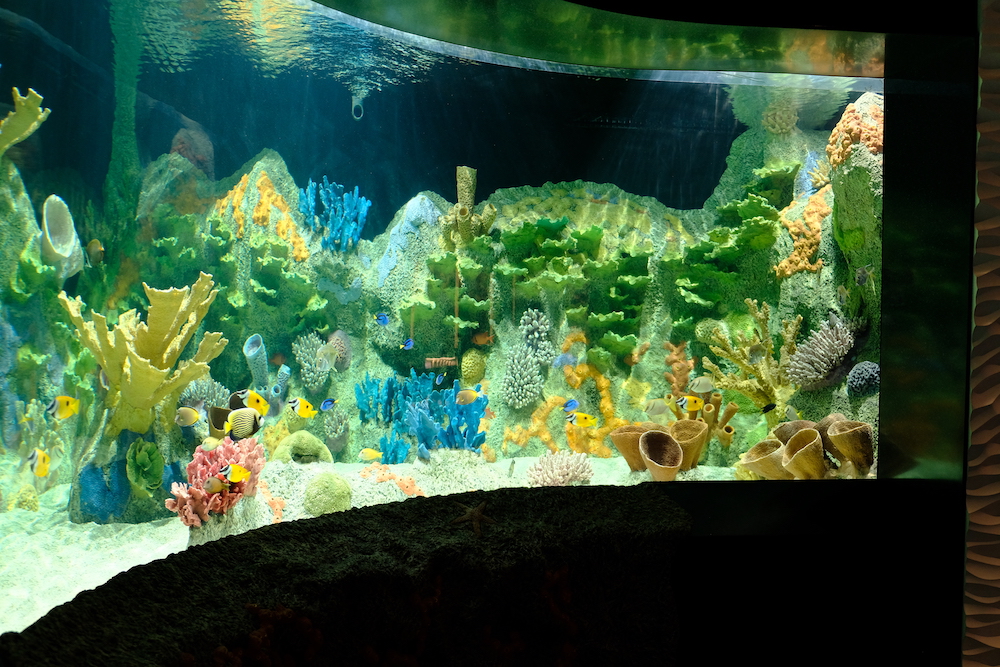 "We knew the Rapid Design Process at Tenji would help us conserve time and resources and make decisions more confidently. What we didn't expect was the sense of excitement and creative energy the RDP drawings and models would generate! Some of our most productive meetings were spent walking around detailed 3D models with the Tenji team, talking about all the amazing possibilities."
OPPORTUNITIES
The Cook Museum, a state-of-the-art natural history museum in downtown Decatur, AL, opened in 2019 to introduce visitors to the wonders of the natural world through a wide range of immersive, hands-on exhibits. The Museum honors the legacy of John Cook, Sr., a businessman who enchanted and educated shopping mall customers with his traveling insect and mounted wildlife collections in the 1960s and 1970s. His humble, whole-hearted appreciation for nature inspires his surviving family and the Cook's founders today.
And while John Cook never had the resources to collect ocean specimens, his family knew aquatic life would be an attention-getting, revenue-generating attraction he would have approved of—and loved. The magic of moon jellies. The timeless appeal of sea turtles. The spectacular shapes and spectrum of colors contained in a coral reef.
They wanted their brand-new, cutting-edge museum to have the Tenji touch.
CHALLENGES
15,000 gallon exhibit designed for sea turtles and tropical fishes.
Before displaying moon jellies (and other aquatic species), the Cook would need life support facilities capable of culturing, quarantining, and caring for them.
While the construction process would allow for some customization, the Cook's footprint and framing were already in place. This created a classic "ship in a bottle challenge" for the Sea Turtle exhibit in particular. Our aquatic design and construction team would need to fabricate large-capacity tanks outside the building, disassemble them to get the pieces through the Museum entrance, and reassemble them onsite—a true test of design and engineering expertise and one of Tenji's specialties.
Space for life support system elements and other critical aspects of the project was at a premium, so Tenji designers were tasked with rethinking how LSS components could be shoehorned into spaces and yet be easy to maintain.
Tenji Team designed and built an offsite quarantine facility.
And like all high-profile projects for internationally recognized institutions, the exhibit needed to be completed to the highest quality both on time and on budget.
THE TENJI TOUCH
Our aquatic artists and engineers created a full, 3D model of the sea turtle and coral tank to make sure the Cook team could really see and experience the sinuous flow of curved plexiglass, the range of colors and textures in the corals, and the relationships between exhibit elements. This highly detailed and malleable model expedited the decision-making process and ensured an extraordinary level of variety and accuracy in the rockwork and corals. Cook staff could stand alongside our marine scientists and artists and work out the perfect placement for biologically accurate artificial corals, sponges, and tunicates.
Tenji designed and built:
a cutting-edge culture and quarantine facility for the plant and animal life featured in the exhibits, like moon jellies. It takes multiple tanks and just the right conditions to cultivate a steady supply of moon jellies and, thanks to Tenji, the exhibit can count on a fully stocked tank.
customized FRP work platforms for maintaining exhibits.
space-saving innovations into the display, culture, and quarantine facilites. Making use of vertical space saved valuable floor real estate, opening more room for the public.
a 15,000 gallon saltwater tank, fabricated offsite and reassembled within the Museum's walls, to give visitors an underwater look at a vibrant coral reef, and a mysterious, magical moon jelly tank.
both tanks for ease of maintenance and exceed AZA standards for animal and plant comfort and safety. Tenji took advantage of the opportunities new construction provides by coordinating waterproof, cleanable walls; sloping floors to drain wastewater; and the freedom to customize the arrangement of front-end and back-end elements.
Today, the saltwater aquarium is the centerpiece of the Cook Museum's oceanic exhibits and draws (and delights) hundreds of thousands of visitors each year.